How to Check Tire Tread Depth

Wondering how to check tread depth? Here at Santa Cruz Toyota, we like to keep our drivers safe on Santa Cruz roads. One key step to driving safely is taking care of routine vehicle maintenance. One of the most common car parts to monitor and replace is your vehicle's tires. Find yourself wondering how to check tire tread depth? It isn't too complicated of a process, and the service team at Santa Cruz Toyota has put together the helpful guide below. You just need a ruler or a penny and you're all set. Read on to learn more about how to check tread depth, and if you need help finding new tires, visit Santa Cruz Toyota for authentic tires you can trust on Watsonville roads.
---
How to Check Tread Depth: Safety Tips
When inspecting your tire tread depth, you'll first want to consider the type of tires you have on your vehicle. Tread depths vary from tire to tire, but typically, new tires have tread depths of around 10/32 or 11/32 of an inch. Heavy-duty tires, like winter tires or off-roading tires, tend to have deeper tread grooves for superior traction. So, how shallow is too shallow for your tire's tread depth? Once your tire is down to about 2/32 of tread, the U.S. Department of Transportation recommends tire replacement. Proper tire tread depth is important to staying safe on Capitola area roads.
---
How to Check Tread Depth at Home
If you're able to check tire tread wear at home, the process is easy! The most accurate and recommended method for measuring the tread depths on your tires is by using a ruler. On the other hand, if you don't have a ruler or you'd like to check your tires while out and about in Santa Clara, you can use a penny for measurement as well. Once you have your penny ready, follow these simple steps:
Place the penny on the thread groove of the tire. Turn the penny so Lincoln's head is upside down.
Check to see how much of Lincoln's head is covered by the grooves.
If you are able to see all of Lincoln's face, your tire treads are 2/32 of an inch or less and it is time for a tire replacement – schedule service with Santa Cruz Toyota.
Be sure to complete the penny test on several different areas on each of your vehicle's four tires for accuracy.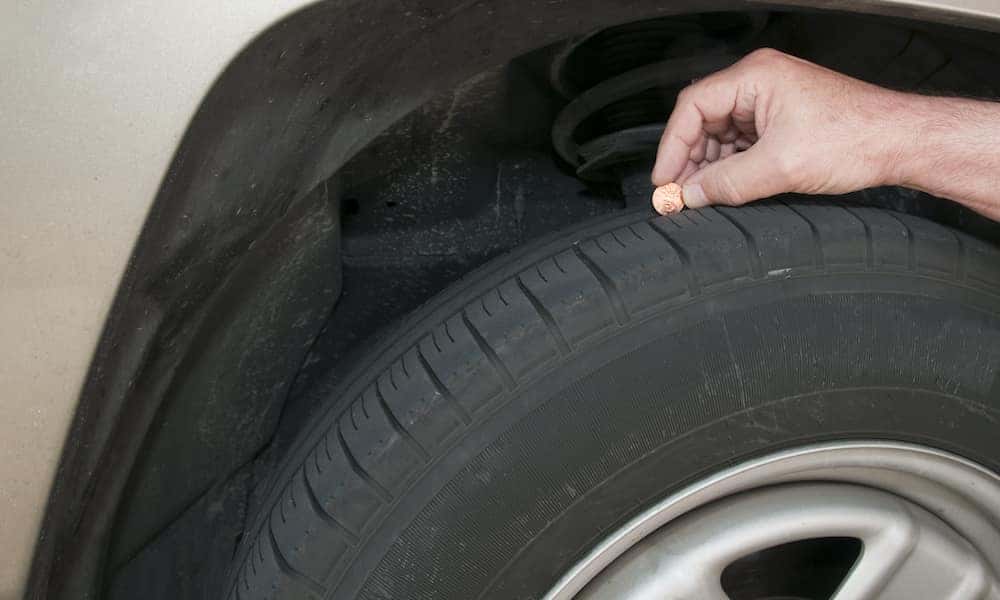 ---
Keep Your Tires in Good Condition
Keep in mind, there are tools designed to check your tire tread depth, such as a tire tread depth gauge. With this tool, it's simple to tell when your tires are at 2/32 of tread or less. Beyond just checking tread depth, you should also complete the following routine maintenance tasks on a regular basis:
Check the wheel alignment
Rotate your tires
Check tire pressure (don't forget about the spare tire)
Inspect the tires for any visible signs of tire damage
Check for tire rot or disintegration
---
Tire Service and More From Santa Cruz Toyota
Here at Santa Cruz Toyota, we're proud to be Capitola's local authorized dealer for new Toyota vehicles, but we also pride ourselves on our top-notch vehicle service center! With information on everything from new ToyotaCare to recommended maintenance, the team at Santa Cruz Toyota is here to help! Contact us today!
---
Our Service Specials
Santa Cruz Toyota
4200 Auto Plaza Dr, Capitola, CA
Service: (831) 706-2367
October Tire Savings Event
Buy 3 Tires, Get the 4th for $1
Expires: October 31, 2023
More From Santa Cruz Toyota
After more than two decades of hiatus from the U.S. market, the Toyota Supra is back with more power and performance than ever before. Are you curious about what you can expect from the 2023 Toyota GR Supra specs? From the experts at Toyota Gazoo Racing, the new Toyota GR Supra has been engineered…

If you're looking for a powerful and reliable pickup truck with impressive towing capabilities, the Toyota Tundra is for you! Known for its robust performance and unyielding strength, the Toyota Tundra has become a top choice for Santa Cruz truck enthusiasts and professionals. Let's dive deep into the Toyota Tundra towing capacity, the Toyota Tundra tow…

There is a lot for Capitola drivers to admire about the new Corolla, inside and out. But we'd like to tell you about the impressive Toyota Corolla interior. For example, the Toyota Corolla dimensions reveal plenty of legroom for you and your passengers. We go into the details below, including a list of the…