How Much Can a 2020 Toyota 4Runner Tow?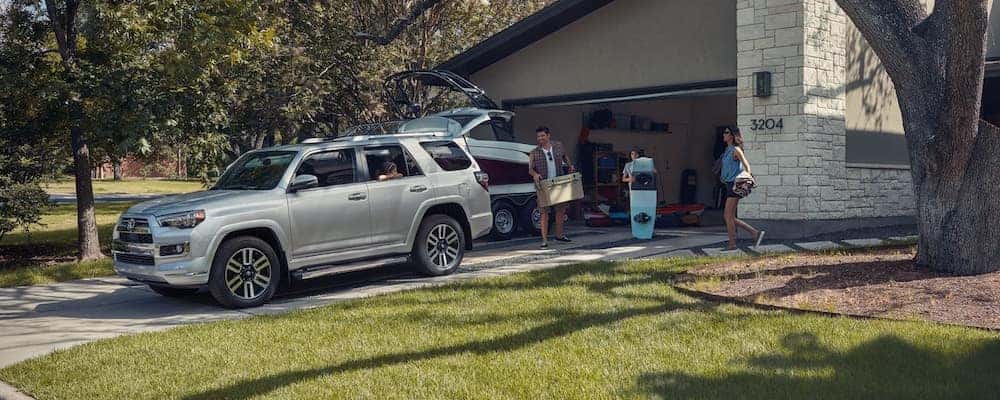 The 2020 Toyota 4Runner's towing capacity is 5,000 pounds,* making it a true powerhouse in addition to a versatile option for families around Santa Cruz and Monterey. It's not just what's under the hood that enables this midsize SUV to handle so much weight — there's plenty of brain behind the brawn, with lots of towing-specific features to help you make the most of it.
Top 2020 4Runner Towing Features
The new Toyota 4Runner comes with a variety of features designed to make towing easier. It obviously starts with the 4.0L V6 engine — it provides 270 hp and 278 lb-ft of torque — but a pair of other key features include:
Wiring Harness with 4- and 7-Pin Connectors: Makes it simple to connect your trailer lights, helping other drivers will be able to see your turn signals even when you're hauling a large trailer.
Integrated Towing Hitch Receiver: A tow hitch receiver is standard equipment for any SUV that's committed to offering real towing power, so of course you'll find one on the new 4Runner.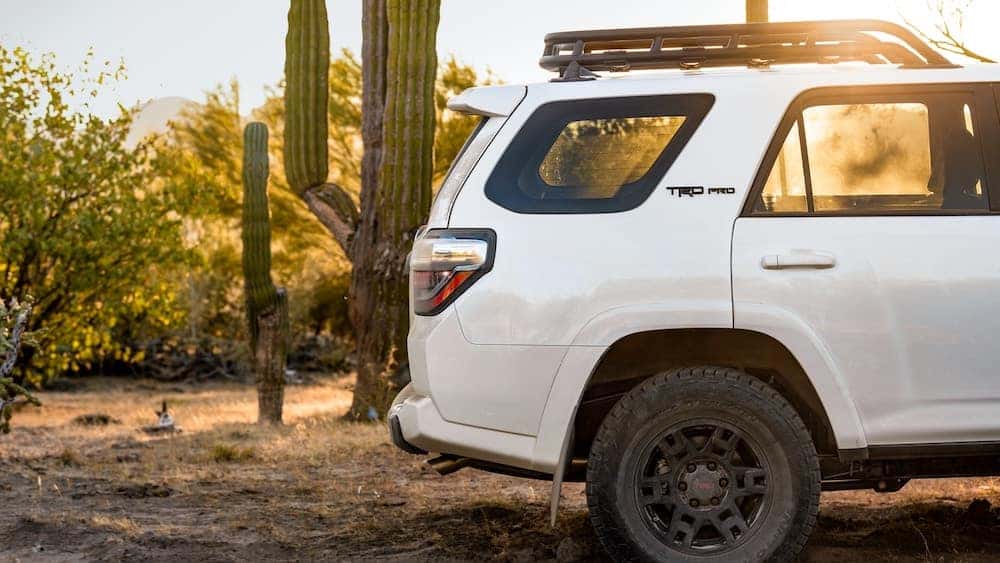 4Runner Towing vs. the Competition

The 2020 4Runner is equipped to tow immediately after you drive it away from the dealership, but its muscle also outdoes the competition in a significant way. Just take a look at how it compares to the base trim of some of its top competitors:
2020 Toyota 4Runner SR5 FWD: 5,000 pounds
2020 Jeep Wrangler 4-Door Sport: 3,500 pounds
2019 Jeep Grand Cherokee Laredo 4×2: 3,500 pounds
2020 Honda Pilot LX FWD: 3,500 pounds
What Does "SAE J2807 Towing Rating" Mean?
This standard is a product of the Society of Automotive Engineers (SAE), and encompasses a range of requirements designed to offer an objective measure of towing capability. It includes requirements for trucks' chassis, structure, ballast, and tires, and also takes engine power, hitch structure, and overall vehicle dynamics into account.
Because it's based on objective standards, it's an excellent measure of a truck's actual towing capabilities. Trucks that are not measured by SAE J2807 standards may not offer towing figures that are accurate, which puts the burden on the consumer to conduct research to learn a vehicle's true gross combined weight rating (GCWR). Fortunately, this is not a problem with the 4Runner.
Learn About What the 2020 4Runner Can do at Santa Cruz Toyota
Any of the 2020 Toyota 4Runner's trim levels offer incredible towing capacity, making it a great all-purpose choice for families in Aptos and beyond. But don't just take our word for it — contact us today to schedule a test drive at our dealership in Capitola. You can also apply for financing ahead of time.
More About Toyota Models
The 2020 Toyota RAV4 is an ideal vehicle for Capitola drivers who want an SUV with a low starting MSRP and a suite of convenience and performance features. There are six RAV4 configurations for Capitola drivers to choose from, meaning that there are six different ways to customize the RAV4 to your lifestyle. Explore the…

When you think of fuel-efficient vehicles, we're willing to bet that the first car that comes to mind is the Toyota Prius and its stunning mpg ratings. As the first hybrid vehicle to come to the US market in 2001, the Toyota Prius set the standard for hybrid vehicles and fuel efficiency. Fast forward to…

The 2020 Toyota Corolla's ratings reach up to 53 mpg city and 52 mpg highway** with the Hybrid LE trim. Even if you don't select the most efficient model, you'll find stunning fuel economy throughout the lineup to make you Santa Cruz commutes more affordable than ever. View Corolla Inventory 2020 Corolla Details What is the…