How to Fix a Dent in a Car

If you drive every day in Capitola, small dents and scratches are inevitable — so it's useful to know how to fix scratches on car paint or fix a dent in car bumpers. Most minor scratches and dents can be taken care of in your own garage with just a few simple household supplies. Scratches that go deeper than your car's clear coat will need attention from a  professional. In the guide below, we'll show you how to fix a dent in a car at home, how to fix scratches on a car's clear coat — plus how to know when to schedule service at a certified dealership near Santa Cruz.
---
How to Fix Scratches on Car Exteriors
It's not uncommon to find small scratches on your car's exterior paint. While some may be severe enough to require attention at a service center, many small scratches are easy to remove with a little waxing and buffing. If a scratch has penetrated the clear cat and exposed the primer, then paint correction is required to fix scratches on the car exterior. If you have the skills and supplies to fill the scratch with paint and add a clear coat on top, then go for it!
If you'd rather leave it to the experts, contact your local Watsonville service center for quick and professional paint correction. Below, we'll go over how to fix scratches on car exteriors when just the clear coat has been affected.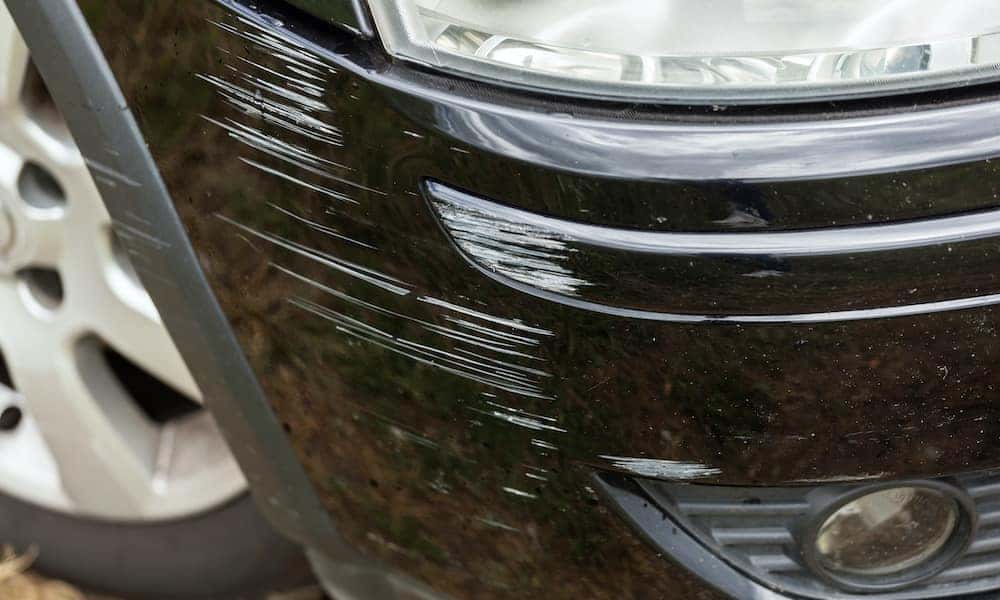 ---
Fixing Clear Coat Scratches on a Car
Clearcoat scratches are shallow scratches that only affect the outer clear coat of your car's exterior paint. They can be caused by a piece of dirt or grit in the sponge while you wash your car, or gravel particles glancing off the side of your car on the highway. Whatever the cause, clear coat scratches can be an eyesore. Fortunately, removing them is quick and easy! Follow the steps below to fix scratches on car clear coats:
First, determine the severity of the scratch. If your fingernail doesn't catch as you run it across the scratch, it's a shallow clear coat scratch. Even if your nail does catch, a deep clear coat scratch is still something you can fix at home.
Clean the scratch and surrounding area with soapy water and a clean microfiber towel. Be sure the towel is free of dirt or grit particles.
Tape off the scratch so you can see where it is — especially as you buff it down, the scratch will be harder to see.
Sand down the scratch with fine-grit sandpaper and water. Keep in mind that you'll need to spray the sandpaper and scratch area with water before sanding. For shallow clear coat scratches, use 5000 grit sandpaper. For deeper clear coat scratches, use 3000 grit.
Carry on spraying with water and sanding until the scratch has vanished. If you started off with 3000 grit, move to 5000 when the scratch is shallow, and then blend into the surrounding area.
When the scratch is completely gone, it's time to polish. Clean the surface with soap and water again. Then apply "fine" polish with a clean microfiber towel, using circular motions.
Next, use another clean microfiber towel to remove excess polish and lightly buff the surface.
Apply wax according to the package directions. This will add a protective layer to your paint and clear coat.
---
How to Fix a Small Dent in a Car Exterior
Just like scratches, small dents are a part of life when you own a car. When you need to fix a dent in a car bumper or body, minor damage is easy to fix at home in Santa Clara. A few popular DIY methods include:
Suction Cup: With this method, you use a suction cup to create a strong vacuum that will pull the dent out. Pick up auto repair suction cups at the Santa Cruz Toyota service center, or order one from our online parts catalog.
Hair Dryer and Mallet: If you're experienced with auto repairs, you can try this method. First, remove the body panel with the dent. Heat the dent for several minutes with the hairdryer. Then, knock the dent back into place with the mallet.
---
Rely on Santa Cruz Toyota for Expert DIY Advice
Now that you know how to fix a dent in a car exterior, why not learn more about DIY car care? Our expert technicians are happy to walk you through essential maintenance like checking your car's oil levels and we'll let you know how long an oil change takes at Santa Cruz Toyota. Contact us today to speak with an expert about keeping your running smoothly for years to come!
More From Santa Cruz Toyota
The Toyota Camry is a worldwide best-seller for its exceptional comfort and quality, and of course, it's incredible fuel economy figures. So, what can you expect from the 2023 Toyota Camry MPG? The latest model generates up to 28 mpg on the Santa Cruz city roads and 39 mpg on the Santa Clara-area highways. And while those…

Are you in the market for a confident sedan that can rise to every challenge on your Santa Cruz commute? The new Toyota Camry is packed with everyday features that make life on the road more convenient. What's more, the Toyota Camry interior offers plenty of space so you can settle in for the long haul…

The weight of the Toyota Tacoma varies quite a lot based on how it's configured. For example, the engine size and cab style will impact the Toyota Tacoma curb weight differently on each of the trim levels. All Tacoma models boast a good curb weight to help you obtain better fuel economy, but curb…